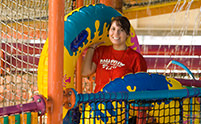 Adventure City – Supervisor
Overview
Why work for Canadian Niagara Hotels as an Attractions Supervisor?
We are a company that believes in the talent of our associates, we are dedicated to assisting them in developing their skills to advance their career. Most important, you'll be a part of a team that's includes 2500+ talented and dedicated hospitality enthusiasts who are dedicated to providing an unparalleled hotel experience to each and every guest. As a part of Canadian Niagara Hotels, you will also have access to an amazing medical and dental benefits plan.
Responsibilities
Attractions Supervisor Responsibilities:
Assist Attractions Manager in creating a fun and high-energy venue
Motivate staff on exceeding guest satisfaction and operating revenue targets
Assist with recruiting/hiring/training/scheduling/evaluating/counselling team members
Apply all operating equipment and cash control standards
Complete inventory checks, departmental reports
Establish immediate credibility with guests and staff
Enforce all health and safety/sanitation standards
Other duties as assigned
Qualifications
What you'll need as an Attractions Supervisor:
Experience: 1+ years' supervisory experience in a relevant field
Education: Secondary School Graduate Diploma preferred
Other Qualifications:
Demonstrated commitment in maximizing guest satisfaction in each stage of the guest experience. Demonstrated willingness/enjoyment to attend to the needs of others
Demonstrated ability to maintain professional composure at all times, while performing multiple tasks among staff, multiple guests/multiple items/products
Employs persuasion and influence to initiate and/or resolve matters
Demonstrated ability to lead/supervise a large team of operating staff. Sets high priorities/ standards, and demonstrates urgency to achieve critical goals and objectives;
Demonstrated knowledge and conversational ability in order to train staff to provide an exceptional guest experience and to encourage both cross-promotion/sales of related restaurants/services
Trains and corrects staff, as required, in order to ensure all staff operate at a consistent level of performance;
Outstanding attention to detail – both personal grooming/appearance and in properly identifying guest's needs, demeanor, and level of required service attention
Demonstrated reading comprehension ability to increase guest satisfaction during stay/ visit.
Ability to quickly respond to changing work volume; high-energy level/speed.
Ability to work independently with minimal supervision.
Ability to work safely and in compliance with all health, safety, and sanitation standards
Willingness to work all shifts including days/evenings/weekends and holidays.