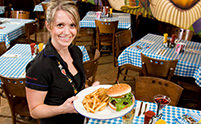 Overview
The Bartender is responsible for the professional preparation of beverages for servers and customers in an enthusiastic, professional and efficient manner, and ensuring quality product is provided to customers' satisfaction.
Responsibilities
Preparing beverages.
Keeping inventory.
Ordering supplies.
Stocking the bar.
Generating sales reports.
Maintaining cleanliness of bar area.
Other duties as assigned.
Qualifications
Demonstrate commitment and passion to maximizing guest satisfaction in each stage of the guest experience, particularly as it pertains to exceptional standards of cleanliness, efficiency, and organization of work.
Demonstrate willingness/enjoyment to attend to the needs of others.
Excellent interpersonal and communication skills when dealing with customers and employees.
Demonstrate the ability to maintain professional composure at all times, regardless of issue, while performing multiple tasks with multiple guests/multiple items/products.
Excellent organizational and time management skills and the ability to work under pressure.
Outstanding attention to detail – both personal grooming/appearance and in properly identifying guest's needs, demeanor, and level of required service attention.
Demonstrate reading comprehension ability (eg. assist guests in reading of company/local tourism literature in order to increase guest satisfaction during stay/visit).
Ability to work independently with minimal supervision as well as cooperatively within a team setting.
Demonstrate knowledge of wines and beverages.
Recent relevant experience in a similar environment.
Ability to work safely and in compliance with all health, safety, and sanitation standards.
Must be willing and able to perform duties of a physical nature – may be required to lift heavy items (50lbs).
Must be 18 years of age or older and Smart Serve Certified.
Completion of a course in Bartending preferred.
Must be able to work all evening shifts including weekends and holidays.