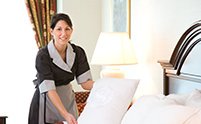 Front Office Manager – Bonvoy/SPG Hotels
Overview
Why Work For Canadian Niagara Hotels?
As a part of Canadian Niagara Hotels, you'll have access to an amazing medical and dental benefits plan and discounts at hotels around the world. We also include perks like free parking for our associates. We're a company that believes in the talent of our associates, and invests in helping them learn and grow in their career. Most important, you'll be a part of a team that's includes 2500+ talented and dedicated hospitality enthusiasts who are dedicated to providing a luxury to each guest so they feel welcome, comfortable, and free to be themselves.
Responsibilities
This position is responsible in the effective and efficient operation of the Front Office/Guest Services Department- ensuring the highest level of guest service is provided by consistently exceeding guest expectations and maximizing potential revenue, ensuring results are achieved in accordance with objectives, performance and quality standards established by the Company. This position reports to the Hotel General Manager.
Manage and schedule Front Office management.
Staff, budget, project, and P&L management.
Improving Front Office operations in order to increase guest satisfaction, revenue and decreased costs.
Assist with administrative support as necessary to meet company standards.
Qualifications
Post-Secondary education in a related field or the equivalent in education and experience
Previous Marriott Bonvoy / SPG brand experience as a Front Office Manager is an asset.
Opera front desk report generation experience preferred
Knowledgeable with Microsoft Word, Excel and Outlook
Ability to lead/supervise a large team of front desk staff
Sets high priorities/standards and demonstrates urgency to achieve critical goals and objectives
Approachable and establishes immediate credibility with guests and staff – leads all staff by example
Develops all staff to the best of their personal capabilities and directs staff in an efficient and forthright manner
Demonstrate personal involvement and supervision to ensure the workplace is safe for all guests and staff
Demonstrate knowledge and conversational ability to train staff to effortlessly provide exceptional guest experiences
Outstanding attention to detail – both personal grooming/appearance and in properly ensuring staff appearance standards are maintained at all times
Ability to work all shifts including days/evenings/weekends and holidays
We also understand that diversity includes people with disabilities who might require reasonable accommodation in order to fully participate and contribute to their full capabilities or candidates for employment interested in reviewing or receiving information pertaining to careers at Canadian Niagara Hotels. This includes being able to fully participate in the Resort's candidate selection process, including personal interviews in many circumstances, wherever possible and practical.   If you would like to receive information in another format or other communications supports please send an email to hr@niagarafallshotels.com or by telephone at 905-374-4446 extension 4600