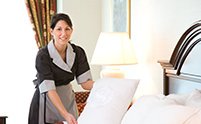 Overview
The Hotel Ambassador is responsible for initiating an outstanding guest experience by ensuring passionate, competent and efficient service is provided at all times through a high level of guest service. As an initial contact person for hotel guests, the Hotel Ambassador presents hotel services and products in a positive, courteous and enthusiastic manner.
Responsibilities
Enthusiastically welcome and greet guests, provide superior public relations and assistance to patrons and employees.
Respond to and handle any incidents that occur on property in a prompt and professional manner.
Responsible for the safety and security of all guests and employees in the hotel lobby.
Complete reports and enforce hotel policies.
Other duties as assigned.
Qualifications
Perpetual cheerfulness and extroversion in order to greet each guest and respond to guest requests, modifying personal delivery as appropriate to different types of guests needs, interests and desires (adults, children, couples, cultural, etc.).
Ability to maintain professional composure at all times, regardless of issue, while performing multiple tasks with multiple guests/multiple items.
Commitment to quality and hospitality demonstrated during all interactions with customers.
Excellent interpersonal and communication skills when dealing with customers and employees, ensuring clear inter-departmental communication and cooperation in the interest of better guest satisfaction.
Outstanding attention to detail – both personal grooming/appearance and in properly identifying guest's needs, demeanour and level of required service attention.
Knowledge and conversational ability in order to effortlessly provide quality guest experience and encourage both cross-promotion/sales of related products and company services/activities/products across the complex.
Strong organizational and time management skills and the ability to work under pressure.
Ability to work cooperatively within a team setting to anticipate and assist to another employee's guests' needs.
Ability to provide accurate and interesting hotel information/tours as required.
Ability to work independently with minimal supervision.
Ability to quickly respond to changing work volume with high-energy level and speed.
Ability to work safely and in compliance with all health and safety standards to maintain a safe and hazard free work environment.
Standard First Aid and Basic Rescuer CPR is preferred.
Must be able to work all evening shifts including weekends and holidays.
Ability to speak other languages preferred.