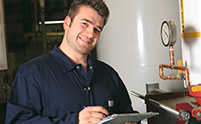 Maintenance Manager – Sheraton on the Falls
Overview
We are a company that believes in the talent of our associates, we are dedicated to assisting them in developing their skills to advance their career. Most important, you'll be a part of a team that's includes 2500+ talented and dedicated hospitality enthusiasts who are dedicated to providing an unparalleled hotel experience to each and every guest. As a part of Canadian Niagara Hotels, you will also have access to an amazing medical and dental benefits plan as well as an employee discount program for hotels around the world.
Responsibilities
Manage maintenance staff, and contract / vendors for electrical and mechanical assets such as elevators
Schedule daily projects and tasks
Conduct building walkabouts
Handle inspections for all work orders, RPMs, PMs, Painting, and Repair Projects
Conduct research on repairs and parts for the Hotel
Responsibility for Fire Safety standards and asset management for the Sheraton On The Falls
Handle guest room complaints or deficiencies
Perform minor electrical, plumbing and furniture repairs
Co-ordinate receiving deliveries, and waste management
Other duties as assigned
Qualifications
Experience: 5+ years' experience in a Maintenance capacity
Education: Secondary School Graduate Diploma
Other Qualifications:
Knowledge of equipment and repair; carpentry, electrical, heating and air conditioning systems and plumbing
Previous Management experience of large teams (15+ employees)
Ability to read blue prints and sketching floor plans
General knowledge of WHMIS and health & safety procedures
Ability to meet the physical requirements of the job (i.e. lifting 50lbs, climbing ladders)
Must be able to work all shifts including weekends and holidays
We are not currently hiring for this position. Please apply for future opportunites with Canadian Niagara Hotels using the link below.