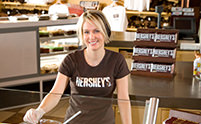 Retail Manager – Falls Avenue Resort
Overview
Why work for Falls Avenue Resorts as a Retail Manager?
You will have access to an amazing medical and dental benefits plan and perks like free parking. We're a company that believes in the talent of our associates, and invests in helping them learn and grow in their career.
The Retail Manager will be responsible for managing a high volume tourist outlet. The Assistant Retail Manager will be striving to create a venue staffed by knowledgeable, helpful, and cheerful staff, who are motivated on exceeding guest satisfaction and operating revenue targets.
Responsibilities
Retail Manager Responsibilities:
Work with the General Manager in creating annual business plans and strategies to drive revenue including new initiatives, revenue maximization and cost saving ideas.
Recruiting/hiring/training of hourly staff
Scheduling/evaluating the effectiveness and efficiency of all outlet staff focused toward continuous personal development and success
Proper receiving of product in retail inventory system
Identify opportunities for sales growth and decrease costs
Ensure all operating equipment and control standards and systems are used
Generate applicable departmental reports
Qualifications
What you will need as a Retail Manager:
Experience: Supervisor experience required, preferably in a retail work environment
Education: Secondary School Graduate Diploma preferred
Other Qualifications:
Experience in a manager/supervisory position in the retail industry
Proven ability to merchandise retail outlet to increase sales
Analytical skills as they pertain to problem/opportunity identification, analysis, and corresponding options/solutions
Excellent organizational and time management skills to work effectively under pressure
Demonstrate ability to lead/supervise a team of operating staff
Demonstrate competency in general financial knowledge, basic mathematics and report-writing
Excellent interpersonal skills
Working knowledge of computerized Point of Sales system, knowledge of Micros and Yellowdog preferred but not needed
Proficiency with Microsoft Excel
Ability to work in physically demanding environment
Keywords:
Store Manager Jobs
Merchandising Manager Jobs
Niagara Falls Retail Manager Jobs