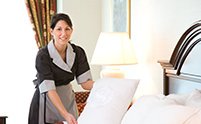 Overview
The Room Attendant is responsible for performing a variety of activities to ensure sanitary, safe and attractive conditions of hotel guest rooms.
Responsibilities
Cleaning and sanitizing guest bathrooms and bedrooms.
Making beds.
Replenishing linens and amenities.
Vacuuming, dusting, scrubbing walls and floors.
Other duties as assigned.
Qualifications
Passion for cleaning – Outstanding attention to detail in order to identify all guest room deficiencies.
Commitment and passion to maximizing guest satisfaction in each stage of the guest experience, particularly as they pertain to exceptional standards of cleanliness and order.
Excellent interpersonal skills with co-workers and guests.
Approachable and establishes immediate credibility with guests and staff.
Self-directed with the ability to work independently without supervision.
Ability to work cooperatively within a team setting.
Ability to read in the English language.
Working knowledge of relevant equipment (i.e. wet/dry vacuum cleaner, etc.).
Knowledge of proper sanitation and cleaning techniques.
Ability to meet the physical requirements of the job (i.e. lifting up to 25lbs, bending, kneeling, reaching).
Must be able to work weekends and holidays.
Secondary School Graduate Diploma preferred, minimum Grade 10 or the equivalent.