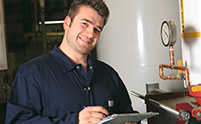 Maintenance & Construction
We have a variety of Maintenance & Construction positions at our resort, including in each hotel, the Fallsview Indoor Waterpark, in each major theme restaurant operation, specialty TSSA ride maintenance with our Attractions division, and a dedicated construction and renovations group.
Why work for Canadian Niagara Hotels?
As a part of Canadian Niagara Hotels, you'll have access to an amazing medical and dental benefits plan and discounts at hotels around the world. We also include perks like free parking for our associates. We're a company that believes in the talent of our associates, and invests in helping them learn and grow in their career. Most important, you'll be a part of a team that's includes 2500+ talented and dedicated hospitality enthusiasts who are dedicated to providing a luxury to each guest so they feel welcome, comfortable, and free to be themselves.
Position: Mechanic II
Location: Sheraton on the Falls
Department: Maintenance