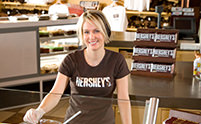 Retail
The Falls Avenue Resort includes a variety of retail outlets for the convenience of our guests. These include Hershey's Chocolate World, Rainforest Cafe Retail Outlet, and the Always Refreshing Soda Shop,
Ever wanted the opportunity to manage a (three-time) award-winning Brew Pub in the heart of Niagara Falls? Now is your chance! We are currently seeking a dynamic, entrepreneurial candidate for the position of Restaurant Manager – Niagara Brewing Company. Reporting to the Director of Operations, and working in cooperation with the Craft Brewery's Brew Master, you will be responsible for ensuring the effective operation of all non-brewery related operations – restaurant, bar, kitchen, facilities maintenance, and retail service teams – which support Niagara's Brewery operation through demonstrated passion to the Craft beer experience.
Why work for Falls Avenue Resorts as a Retail Manager?
You will have access to an amazing medical and dental benefits plan and perks like free parking. We're a company that believes in the talent of our associates, and invests in helping them learn and grow in their career.
The Retail Manager will be responsible for managing a high volume tourist outlet. The Assistant Retail Manager will be striving to create a venue staffed by knowledgeable, helpful, and cheerful staff, who are motivated on exceeding guest satisfaction and operating revenue targets.